---
Manet´s Olympia & Gauguin´s Olympia
18. 10. 2015
"Olympia" by Edouard Manet - the starting and endless source of inspiration for Gauguin.
Edouard Manet inspired Paul Gauguin to his first significant painting "Nude" (1880) with "Luncheon on the grass." (orig. "The Bath")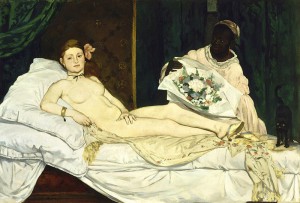 Edouard Manet, Olympia 1863
http://beautifulintheory.com/2014/02/
In the year (1865) when Manet with his Olympia caused such a uproar an the Salon (in Paris), Paul was still only seventeen years and he was going to his first seafaring adventures. (Despite of Gauguin´s higher intelligence he didn´t finish the Naval Academy, but he let himself hire as helmsman assistant on the cargo boat. Within a few years at sea he adjusted his romantic vision of a maritime life, contacted with harsh reality. and recieved his first sexual experiences in port brothels, which also made considerable contributions to his approach to women later.)
Manet presented in Olympia the luxury prostitute and gave the realistic image of the woman that time. The Parisian (19th century) society was widely using the service of prostitutes. This outwardly moral society lived pharisaic and double face life, so Manet set them up the mirror. Olympia with its provocated look caused huge wave of critism, contempt, outrage, but also recognition and admiration that provided the significant position for Manet not only in history of art.
Also Gauguin was dreaming, desiring such a success. He took the Manet´s word to his own: "The artist has to conform everything to art." Gauguin understood art not only as a means of self-expression, but much more the way of self-presentation. He didn´t try to be better, was trying to be different. And he really was. Often compared himself to a wolf. (so free in a comparison to a dog)
Manet´s Olympia was such a strong inspiration for Paul Gauguin that he brought the copy with himself anywhere he went. He constantly paraphrased it into his works. For example his "The Black Olympia" (also known as "Te Ari Vahiné" or "King's wife", "Woman with fruits mango tree."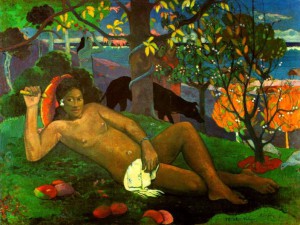 Paul Gauguin, Te Ari Vahiné 1896
Gauguin´s weakness to this motive changed over time. When he made "The Black Olympia" in 1896 (in a condition of advanced syphilis) considered only his one for the pure, ideal of woman´s beauty. All the others, including the Manet´s one, were for him "shameful, sinful and obscene!"
Manet´s Olympia, as well as his own wife Mette Gauguin first loved and then hated ...
A bit strange is how Gauguin used red colour in this painting. This corresponds with the places where Jack the Ripper arranged the organs of Mary Jane Kelly. Under her head, to the sides, to the victim's feet (a small wooden table) white birds in the picture are symbols of death
Except The Black Olympia Gauguin created the other paraphrases of Manet´ s Olympia. Eg. "The Spirit of dead is watching" (Manao Tupapau) 1892 and Nevermore from the year 1897. Anyway also here put Gauguin the symbols of death and remorses.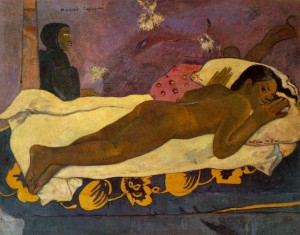 The Spirit of dead is watching 1892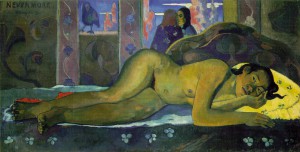 NEVERMORE 1897
That might possibly related to the syphilis, which he brought in a tropical paradise, but that happened after his coming back in year 1895.
For "The Spirit of the dead is watching" (Manao tupapau) from 1892 there must be another motivation...