---
What Gauguin had in common with Jack the Ripper?!
22. 8. 2015
Serial killers, especially the organized ones, usually have one model (one person) for their killing. These are mostly their wives, mothers or lovers. Characteristic are deep ambivalent emotions like "love and hate."
.
Jack the Ripper (JR)
The victims of Jack the Ripper resembled to each other - similar age (43-46), similar height (152-157cm). Only Mary Jane Kelly was different a bit (age 25 years, height 169cm), but it really had the reason. All were prostitutes.
The Ripper´s goal was not to cause them pain or suffering. He murdered them very quickly, almost "painless." The murder should be only a tool to achieve the higher goal. According to the serial killer classification we can say, Jack Ripper was organised serial killer with instrumental motivation formula.
.
Eugene Henri Paul Gauguin
Paul Gauguin was the man without roots and family background. His father died when Paul was almost one year old. He became an introvert living in his own world, brilliant liar and manipulator, who misused anybody and anything for his personal goals. He suffered from syphilis but more important diagnosis was Narcissistic personality disorder which was confirmed by nowadays specialists, (eg. Ronnie Mather, Narcissistic Personality Disorder and Creative Art—The Case of Paul Gauguin)
1.) Gauguin got married with love, but his love transformed to hatred or to strange love/hate emotions through the years
2.) Have never lived in London, but visited this town (evidence from the year 1885)
3.) Frequent visitor of brothels (houses of joy) and prostitutes
4.) In the year

1888

was exactly 40 years

old and

had

5 children
5.) G. was only 163 cm tall
6.) Pathologic narcissist
7.) Physically strong – former sailor, did boxing
8.)

Knowledge of Anatomy

from the studies at Collarosi Acedemy
9.) Knowledge of cutting weapons (daggers, knives... fencing - his favourite hobby)
10.) Undervalued artist seeking and desiring the success
Paul Gauguin: Old women in Arles, Mistral (1888)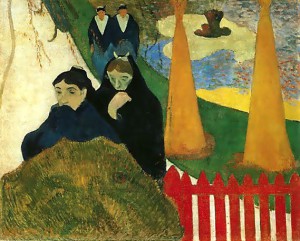 http://art-gauguin.com/index.html
.
For a short period of time (approximately two months) in 1888 was Gauguin living with Vincent van Gogh in Arles. According to Vincent there were 2 motivation factors which influenced Gauguin the most: BLOOD & SEX.
:::

Vincent

cut off the

part of

his ear

after

a quarrel

/

fray

with Paul

, (

23.December 1888) at

the same night

he carried

it

to one

prostitute

in

a local

brothel...

next Morning Gauguin finally left Vincent and Arles. They haven´t seen each other anymore

:::
.
Canonical victims of Jack the Ripper
There were 5 canonical victims of Jack Ripper. Why exactly 5? Because it should be so. The number was not only the random choice. That pointed out the aim, the plan, the purpose of JR crimes. Due to post motrem organ stylisation and detailed work on the bodies there is a big assumption, that JR could be an artist.
the first four: M. A. Nichols, A. Chapman, E. Stride, C. Eddowes
Age: 43-46 years Height: 152-157cm, brown hair, (suffered from various diseases...)
Mary Jane Kelly
Age: 25 years Height: 169 cm, blonde hair, fair complexion, young, attractive, looked like smb from the "higher class"
Mary Jane Kelly differed to the first four, she shoul be his masterpiece, his final work. In her JR implemented everything what was tested before (on previous ones) but she was the only one whose heart was taken. The missing heart could symbolized Ripper´s personal loss (therefore he took hers.)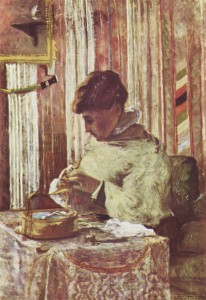 Mette Gauguin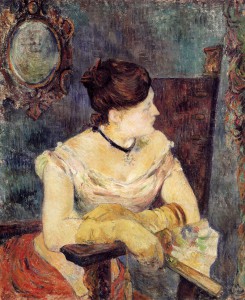 The model for killing was woman. The woman he loved, the woman he hated. Just like Gauguin loved and hated his wife Mette. That was the love at a first sight, she was the symbol of ideal woman, wife in the beginning, but when she refused to support him, love transformed very soon to the opposite emotion. It´s difficult to talk about love in a person suffered from Narcissistic personality disorder. Anyway, the love didn´t die in him at all but the strange combination of anger, hatred and frustration made its own job and strong ambivalent emotions were fighting inside of him.
Jack the Ripper

E.H.P. Gauguin

The organized serial killer. Acted cold blooded, deliberately, detailed

Stickler, strong sence for order and organization

theatrical, self-centered, murdered in the street, he wanted to catch the attention

pathologic narcists, prone to aggression, outbursts of anger,

"blood and sex" motivation

Victims - prostitutes

The frequent customer of prostitutes and brothels "I like women, who are obese and sinful"

Killing in London

Visiting London

Considerable physical strength

Very strong, former sailor, main hobbies: boxing and fencing

Murder weapon - the knife

Excellent knowledge of knives, cutting weapons

Knowledge of Human Anatomy

Knowledge of Human Anatomy at least from the study at Collarosi Academy

Inconspicuous, questionable height of murder, didn´t have to be tall,

victims height around 160 cm

Gauguin´s height - 163 cm

(The height of Vincent van Gogh 169cm,

The height of Mary Jane Kelly 169cm)

5 victims

1. murdered – 31.st August

5 children

1. born – 31.st August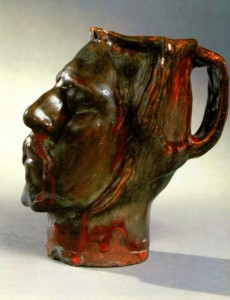 Gauguin, self portrait, glazed ceramics, 1889
http://elli.blog.pravda.sk/2015/06/10/preco-si-vincent-odrezal-ucho/
...
http://www.nevermore.estranky.sk/clanky/.../victims-in-pictures/are-the-jr--s-victims-still-in-the-pictures--.html